Professional Conference Organisers
Prabandhan provides a broad array of services to deliver a comprehensive management experience to our clients. Some of the prominent services are categorised below.
With the help of our IT team, we have also introduced a complete set of services to conduct Virtual Conferences that gives its attendees a feel of real conference from the comfort of their home,
We are also glad to introduce a Hybrid Conference Solution that follows all COVID-19 protocols and covers both onsite and virtual conferencing.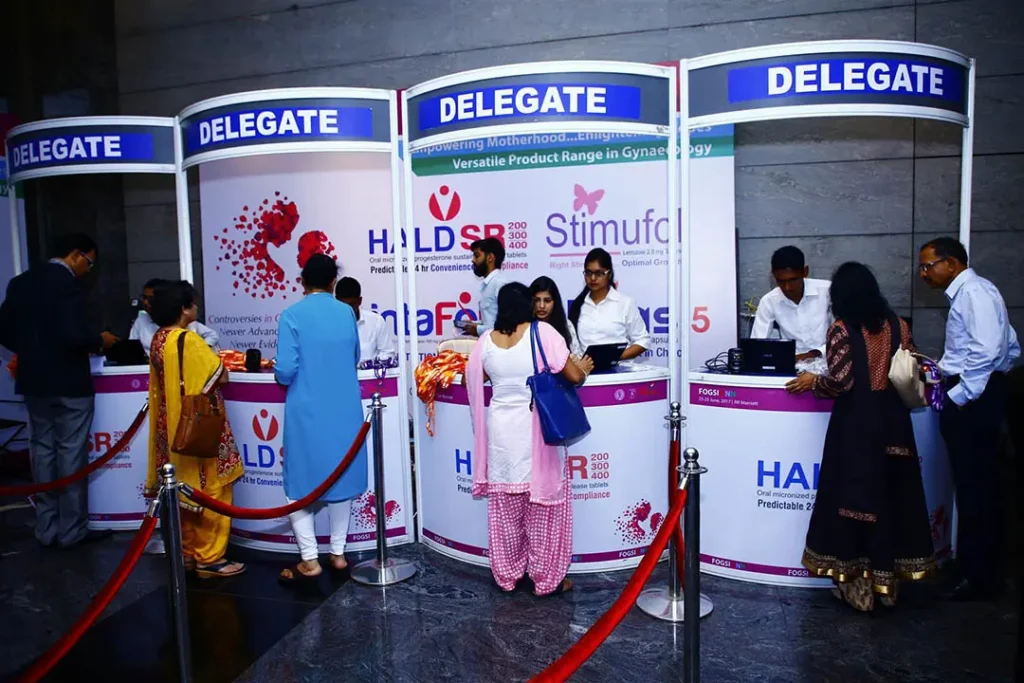 Registration Management: The First Impression
You will never get a second chance to make first impression. The First Impression plays the most important role in every aspect of life and even for the conferences.
The first place witnessed by the attendees at venue is the registration area and its management shows how well the organizers are planned and prepared coz well begun is half done.
With our vast experience and state-of-the-art technology, delegates, faculty and exhibitors collect their badges and collaterals in less than a minute waiting time. This no-waiting-time experience gives a very magnificent impact at arrival and shows that organizers are all set for their grand welcome.
Our hi-tech softwares keep track of attendees at the venue and can provide real time update of the exact number of attendees in any hall or session. This technology also help organizers to decide meal guarantee to avoid food and monetary wastages.
Faculty Coordination: The Backbone Of Scientific Program
No conference comes under "successful & planned conference" tag without having a good faculty and knowledgeable sessions. The Faculties have very busy schedule and cannot spare time for conferences without proper invitation and prior intimation of schedule. So coordination with faculty plays a very important role to make conference successful.

By coordinating with faculties from day one and keeping them updated about their schedule, arrangement details etc make them comfortableand build their confidence in the organizers. This results in minimum last minute drop-outs, making the conference scientifically enriched as planned, with attendees getting a wide spectrum of knowledgeable speakers & content.

Our most advance scientific program management software makes sure that regular updates are informed to faculties, warns overlapping of sessions of same faculty, sending alerts before their sessions and covers many more important factors which make scientific program creation and faculty coordination, an ease for organizers.
Trade & Exhibition Coordination: The Secret Of Success
Pharma participation and sponsorship plays a major role to make any conference successful.
Our incomparable technology and unique model of follow-up with pharma people and sponsors help organizers to generate maximum fund following "MCI guidelines" to make their conference successful in every aspect.
Our dedicated team focuses on follow-ups in such a way that nothing slips through our fingers. Every step is backed by integrated technology which keep organizers updated about the financial status of the conference.
From layout planning, space selling, stall allotment to payment collection, fulfilling commitments and resolving all queries on priority, our experts don't leave any stone unturned to make the event a grand success.
On-site Management: The Experience Creation Time
Apart from on-site Registration Management which covers Spot Payment collection, Bar-coding, Kit Distribution, Scientific Sessions & Exhibition Coordination, we also provide the on-site services and assistance for:
Venue Management
Travel and accommodation Management
Celebrity / VIP guest Management
Fabrication setup guidance and management
Inaugural programme based on the minute to minute format
Fire Safety, Security, traffic Guidance & Effective Last moment takeovers
Other services as required by the Organizers
Post Event Work: The Impression That Lasts
Most people remember the ending of a book more than the beginning and the middle. Our wide range of services take care of everything that needs to be done even post-conference.

Right from sending thank you letters to creating detailed reports, Prabandhan does it all.
Other Services: The Genie For Organisers
Branding, Designing, Publication & Digital Marketing Services
With in-house team, having expertise of more than 28 years in designing and publication, Prabandhan provides exceptional service when it comes to branding, designing and publication. We create a branding strategy based on the theme of the event. Our team excels in developing creative designs and setting it up in desired hard forms too. Our Digital Marketing Team of experts also work for many big corporates on regular basics providing high quality marketing services.
Website, Application Development and Management
Prabandhan's IT team is well updated with latest trends and technology. We create Website and applications with complete back-end support, including regular updation and management. Using the updated technology makes our websites and applications very user friendly & easily accessible.
Other Ancillary Services
We seriously wish to work like a Genie when it comes to service offerings. Whatever the Organisers name, we have the services.
Apart from organizing event as a whole, Prabandhan also plays the role of an Event Consultant by providing professional guidance in the field specified by the client. This encourages them to organize event on their own, keeping their personal touch, with our expertise in the desired areas.
CSR projects, Awareness drives, Health Seminars & workshops, Prabandhan has successfully organized all such events in the past for companies like AstraZeneca, Kotak Mahindra, Zuari Cements and many others, delivering successful projects that are still cherished.
If you would like to know more about our services, please feel free to get in touch. We are just a click away.